Choose a Category

Stamp ink for use in re-inking stamps and stamp pads.
---

We offer a variety of inks. Be sure to order the ink that is appropriate to you and do not use inks for purposes other than specified. Note that use of fast drying (or alcohol based) will destroy a standard hand stamp. If you need to use these inks please specify that you need a synthetic die on your stamps.
---

To be used with Maxlight pre-inked stamps.
---

For use with Ultifast pre-inked stamps. Marks on: plastic, metals, glass and photos.
---

To be used with rubber die only. Marks on glass, metals, plasti and photos. Dries in 15 sec. Ultimate thinner should be used with Ultimate Ink.
---

For marking packages in low temperature food cases. Best for light colored surfaces.
---

Use with rubber die ONLY. Good for non-absorbent surfaces such as foil, metal, cellophane, electronic parts, mylar, coated paper or plastic. Use this on dry, uninked pad or Mark II Reversible Pad. USDA approved for food packaging.
---

Marks on Plastic, metal, glass and photos. Thinner is required to reactivate ink.
---

Good for stamping metal cans, waxed paper, foil cartons, glass and photos. Use with rubber die only.
---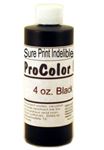 Use with rubber die only. Used for marking on cloth such as cotton, linen and rayon. Not effected by frequent laundering. WARNING: Cancer and Reproductive Harm - www.P65Warnings.ca.gov
---